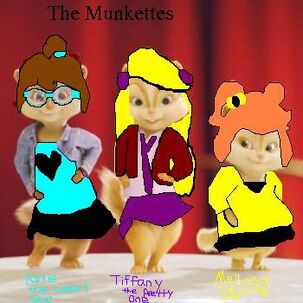 Tiffany and the Munkettes is a band created by Ian, then passed to Dave and they live with the chipmunks and chipettes.
Band Members
Edit
Tiffany- The lead singer. She is naiive, has an attitude and an awesome singer. She is currently dating Jack.
Melissa- The 2nd singer. She is cute,sweet, and a great singer. She is almost dating Mack.
Ruby- The 3rd singer. She is beautiful, pretty smart, and an awesome singer. She isn't in all the pictures. She is dating Joe.
Katie- The 4th singer. She is smart, nice and fragile, and a pretty good singer. She is almost dating Albert.
Alejandro
S.O.S.
Price Tag by Ruby ft. Joe
Firework
Party Rock (Girl Version.) ft. The Munks
Paparazzi
Telephone
Super Bass
Nothin' on you ft. The Munks
TGIF
Bewitched ft. The Munks
Ad blocker interference detected!
Wikia is a free-to-use site that makes money from advertising. We have a modified experience for viewers using ad blockers

Wikia is not accessible if you've made further modifications. Remove the custom ad blocker rule(s) and the page will load as expected.