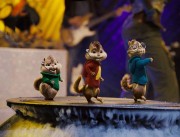 This fan-created cd album came out October,5,2011.This album is a new album for the chipmunks Simon,Theodore and Alvin.
After Alvin and the chipmunks films became very popular to many people loved the songs that the chipmunks sang so a new album.
Track Listing
Edit
How we rock the house by The chipmunks (fan-made)
Hot (Smash mouth) by The Chipmunks
Dream Weaver as by The Chipmunks
Life is a highway by The Chipmunks
Can't touch this by The Chipmunks
Rock and roll all night by The chipmunks
Alvin's Harmonica by the Chipmunks
The kids of america by the chipmunks
What I like about you by The chipmunks
Here comes the sun by the chipmunks
I wanna rock by The chipmunks
Rock you like a hurricane by the chipmunks
Ad blocker interference detected!
Wikia is a free-to-use site that makes money from advertising. We have a modified experience for viewers using ad blockers

Wikia is not accessible if you've made further modifications. Remove the custom ad blocker rule(s) and the page will load as expected.