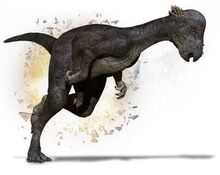 Primeval: New World version
Alvin and the Chipmunks: The Squeakquel
He-Who-Must-Not-Be-Aggravated morphs a Pachycephalosaurus in order to rescue the Chipettes. He got ahead and rammed the car head on, destroying the engine. He then jumped on the car and confronted Ian.
Trivia
The Pachycephalosaurus should be too large to fit on the car.
Ad blocker interference detected!
Wikia is a free-to-use site that makes money from advertising. We have a modified experience for viewers using ad blockers

Wikia is not accessible if you've made further modifications. Remove the custom ad blocker rule(s) and the page will load as expected.