Primeval: New World version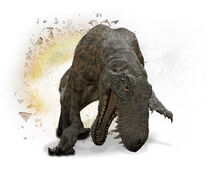 Alvin and the Chipmunks: The Squeakquel
He-Who-Must-Not-Be-Aggravated morphs a Lycaenops and enters West Eastman High. Just as he finds the bullies, they are driving back a Future Predator with loud music. He tells them <Clever, but not clever enough> before charging forward and attacking them. He also uses a spell to disable the music function on their phones, to prevent them from using that on the Future Predators.
Ad blocker interference detected!
Wikia is a free-to-use site that makes money from advertising. We have a modified experience for viewers using ad blockers

Wikia is not accessible if you've made further modifications. Remove the custom ad blocker rule(s) and the page will load as expected.